Hi everyone and thanks for stopping by my blog! Today is my day on the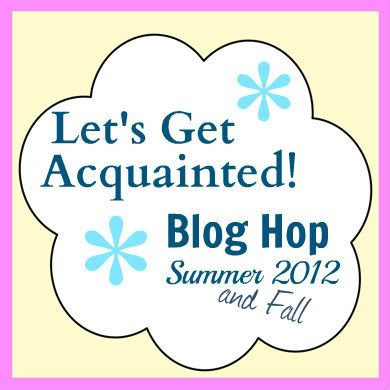 organized by Beth over at
Plum and June
. She has done a wonderful job of bringing bloggers of all skill levels and interests together for a hop. Usually there are two featured blog each on Tuesdays and Thursdays. Check it out
here
and visit some or all of the great blogs! This week be sure and stop by these wonderful blogs and be sure to leave some comment love, after all isn't that like the best thing ever!
Aug 21
Marta from
From Marta with Love
Marion from
My Quilt Diet
Aug 23
May from
Confessions of a Fabraholic
A little about me, I am a single lady, living with my dog Tucker. I live in northern Indiana on a lake where I grew up on the weekends. I was lucky enough to keep it in the family when my parents passed on. I have 2 great sons in their 20's, and one wonderful 3 yr old grandson. I work full time as an RN and commute about 45 min each way on a daily basis. I started sewing as a kid in Home Ec and learned how to embroidery from my grandmother.I was always into crafting and trying to figure out how things were made. After high school I did cross stitch most of the time and then ventured into quilting back in 1993. I made my first quilt after a supervisor at work helped me and showed me how to cut and piece. It actually involved a cross stitched alphabet in snow ball blocks surrounded by scrappy 9 patch. I am thinking this would be a great linky party!! First quilts - what do you think?
I also did alot of smaller things like baby quilts and table runners. Recently I have gotten back into quilting in my spare time and started blogging to meet others, especially during the long winters.
A couple of tips:
Favorite Quilting Tool: my Clover mini iron, sooo helpful for those quarter inch seams in tight spots! It also will decrease the amount of stretch you get if you tend to iron vs. press!
Favorite Blogging Tip: Be real. Be nice. I love to see everyones work and that includes the process not just the finish! But I also like to be real, not every day is a sugar coated love fest, everyone has those days when things just are going your way** But most of all don't compare yourself to everyone else! Do what you love and break out of your safe box now and then.
Oh and photo editing--still learning but makes such a difference!
Here are some of my projects from this year:
Retro Flowers
Great Granny
Central Park Jelly Roll
Magical Mystery Tour
and my most recent: A Very Merry Christmas Pillow featuring handstitching.
As promised I have a tutorial for this pillow! Unfortunately I had a computer crash this weekend** (one of those days I mentioned above where things don't go as planned) when my email got hacked! So I am still recovering and editing pics. I hope to have that completed and the tutorial up tonight or tomorrow at the latest. Just another reminder to always use virus/spyware software frequently and backup your work :) I hope you will stop back for the tutorial! It is picture heavy and probably another good reason for a seperate post!
So very glad to meet all of you! I learn so much from reading everyone's blogs and experiences!
Wishing you a lovely, quilty kind of day!!